LINE-X is the nation's leading provider of spray-on protective coatings. Their products are used in commercial, industrial, agricultural, military and custom applications. At Precision Audio in Thomasville and Bainbridge, it seems we find new applications for LINE-X every day that extend the life of products and make them work more efficiently.
Virtually Unlimited Applications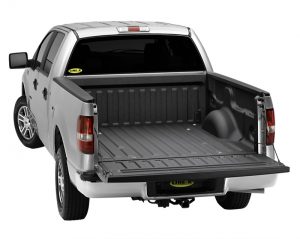 LINE-X coatings have virtually unlimited applications for any business that is serious about protecting and prolonging the life of its products and equipment. They are the market leader in customer service, rated #1 in customer satisfaction within the spray on bedliner industry.
The only company in the industry with a dedicated full-time Research & Development staff and a 15,000-square-foot research facility.
The recognized market leader in the spray-on truck bedliner industry consistently since 2005 (source: Frost & Sullivan Study, 2006 and 2008).
First successful high-temp/high-pressure elastomeric bedliner.
LINE-X offers several different products.
All systems use a two-component, spray-in-place, 100% solids (no air pollution), thermoplastic polyurethane and polyurea.
Two-Part, Heated Application Process
Two separate materials are dispensed precisely through a high-pressure, plural-component internal mixing polyurethane spray machine. Each is heated to 120–140 degrees, with the temperature maintained through a heated hose. Using high pressure, the materials are mixed internally at a 1:1 ratio at the tip of the spray gun. As the material is applied, it takes less than 5 seconds for it to harden. As soon as LINE-X lands on the surface, it's dry!
Safe For The Environment, Great For Your Truckbed
LINE-X products are a fast-cure, multipurpose series of coatings designed for a wide range of retail, commercial and industrial uses. They exhibit excellent adhesion to most properly prepared surfaces. With its fast cure time, a LINE-X product can be sprayed vertically and even overhead without running or dripping. There are no solvents associated with LINE-X products, which means no air pollutants or harmful environmental contaminates.
Durable And Water-tight
LINE-X protective coatings are resistant to most solvents and acids, making them ideal for industrial and commercial applications where corrosion is prevalent. Using LINE-X greatly extends equipment and vehicle life expectancy. It has a high "shore D" hardness rating, offering excellent impact resistance and superior tensile strengths (up to 6,600 psi), resulting in outstanding abrasion resistance. Because the material is sprayed, there is a complete seal, making the coating "watertight."
Precision Audio is pleased to be the authorized LINE-X franchise dealer in our area. Our team has undergone extensive training to ensure your vehicle, equipment or piece of machinery receives a first-rate product designed to last for years.
Contact Us Today To Schedule Your Appointment For A Line-X Application
We invite you to stop by our facility today and let us give you a tour of our state-of-the-art installation department. You can also contact us here for more information about any of our products and services.