Precision Audio in Bainbridge and Thomasville are truck and car audio upgrade specialists. Whether you are interested in adding Apple CarPlay or Android Auto smartphone connectivity, Bluetooth hands-free and audio streaming, SiriusXM satellite radio, or you just want your car stereo to sound better and play louder, our product specialists and expertly trained technicians can help.
Car Audio Upgrade Experts
Most of us spend dozens of hours each week in our vehicles. Being able to listen to our music through a stereo system that sounds great can make driving much more enjoyable and relaxing. Our team of car and truck audio upgrade experts has the training to ensure we design and integrate audio system upgrades that deliver the features and performance our clients expect.
Modern Car Radios Add Technology and Improved Entertainment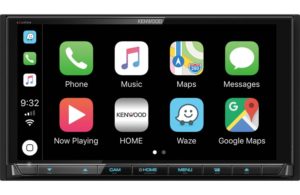 For radio upgrades, Kenwood and Pioneer are industry leaders in Apple CarPlay and Android Auto smartphone connectivity. Imagine getting detailed turn-by-turn navigation directions to any destination you want by talking to your radio in plain English. You can search for a restaurant, gas station, hotel or even a hospital, and the system lets you choose a destination and plot an efficient route in seconds. Sending text messages, making phone calls or accessing a streaming service like Pandora or iHeartRadio is equally easy. Of course, a new radio will enable your digital media collection of MP3 and FLAC files to sound fantastic.
We can add SiriusXM satellite radio to a new CD or multimedia receiver so you can pick the genre of music or information you enjoy. We even have solutions to add satellite radio to factory-installed radios.
Car Audio Speaker Upgrades Improve Clarity
A new set of speakers is the best way to improve the clarity and detail in your mobile audio system. Speakers are the most crucial part of an audio system as they are the only link between your radio and your ears. We carry speaker upgrades from JL Audio, Rockford Fosgate, Kenwood, and Pioneer at a variety of prices and performance levels, with sizes from 1-inch tweeters to high-quality 6x9s and audiophile-grade component sets.
Car Stereo Amplifiers Let You Crank the Volume
Once you've upgraded your speakers, you'll want to consider adding an amplifier. New speakers not only sound great, but they can also play louder than the factory-installed units they replace. To get the most performance from your speakers, they'll need to be fed with more power. We have amplifiers from JL Audio, Rockford, Kenwood and Pioneer to meet every performance expectation and price point.
Subwoofer Upgrades Add Realism and Impact to Your Music
One of the best upgrades you can make to a car audio system is to add a subwoofer. Forcing the small speakers in your doors to try to produce bass only makes them sound worse. Adding a subwoofer relieves the small speakers from having to work hard, letting them reproduce midrange information with improved clarity and detail. A dedicated subwoofer has a large cone area and lots of excursion capability so it can move lots of air. When combined with a quality amplifier, reproducing the bottom few octaves of your music is done with impressive accuracy and detail.
Speaker Boxes for Every Application
Our team of car and truck audio experts has subwoofer upgrades available for almost every vehicle on the road. We even have vehicle-specific subwoofers systems from JL Audio that hide behind or underneath the factory trim panels in your vehicle.
We stock speaker boxes from Atrend, Audio Enhancers and Rockford Fosgate to suit almost every application and performance level.
Powered subwoofer boxes are another great option to make adding bass simple. Both Rockford and JL Audio have bass systems with built-in amplifiers that sound awesome. Whether you need a slim enclosure with a single 8-inch driver to fit under a seat or want to shake the rearview mirror with a 12-inch and 500 watts of power, we have you covered.
Upgrade Your Car Stereo Today at Precision Audio
If the stereo in your car or truck doesn't put a smile on your face, then drop by Precision Audio in Bainbridge or Thomasville and speak with one of our product specialists. They'll listen to your feedback on your existing audio system and suggest an upgrade that will improve its performance without breaking the bank. If you can't visit the store, send us an e-mail using our contact page, and we'll do our best to answer any questions you might have.