Having the team at Precision Audio in Bainbridge or Thomasville install high-quality window tint on your car or truck is a great way to make your vehicle more comfortable while improving its appearance. Our work with premium Llumar window tint materials, combined with our technicians' expertise, ensures that your vehicle will look amazing for years to come.
Premium Window Tint
More than a dozen companies make tint products. We've used Llumar tint for years because their products have proven themselves time and time again for their performance and reliability. The tint doesn't fade or turn purple. The adhesive doesn't fail and cause peeling or bubbles.
Metalized Window tint – Llumar ATR
Llumar ATR utilizes a hybrid metalized construction that offers impressive heat-rejection properties that double the performance of dyed films. The infrared rejection performance is impressively efficient at keeping the interior of your car or truck cooler on a hot Georgia summer day. The UV protection prevents premature fading of interior fabrics. Darkness levels are available from very light through limo-tint dark. Llumar ATR tint carries a lifetime product warranty.
Ceramic Window Tint – Llumar CTX
CTX is a premium window tint that delivers amazing UV filtering and stellar heat-rejection performance. If staying comfortable in your car or truck is a top priority, this tint is a great choice. The ceramic construction is an excellent choice for users who use portable navigation systems frequently or spend a lot of time on their phones. The ceramic construction doesn't attenuate wireless signals in any way. CTX has a nationwide lifetime warranty against fading, peeling, bubbling or turning purple. Even if you've moved to New York or California, you are covered.
Premium Ceramic Tint – Llumar IRX
LLumar IRX takes heat-rejection performance to a whole new level. With noticeably enhanced infrared rejection over the already-amazing CTX product, your car, truck or SUV will be cooler, and your air conditioning system won't have to work as hard to keep it that way. IRX window tint blocks more than 99% of UV rays to protect your skin from damage. UV rays are also responsible for causing fabrics to fade and the plastics and vinyl to dry out and crack. IRX is backed by a nationwide lifetime warranty.
Window Tint Shades and Darkness
Window tint is available in a variety of shades to suit your performance and styling preferences. Tint darkness is specified by the amount of light that is allowed to pass through. The chart below will give you an idea of what each tint looks like.
Georgia Automotive Window Tint Laws
Georgia Code Title 40. Motor Vehicles and Traffic § 40-8-73.1 governs the rules for tint darkness on cars and trucks.
For cars, non-reflective tint is allowed on the top six inches of the windshields. The front and rear side windows and the back window must allow at least 32% of light in.
For trucks, SUVs and vans, the same six-inch guideline applies to the front windshield as well as the 32% VLT specification for the front side windows. Back side windows and the rear windows may be tinted in any darkness.
If you have a doctor-verified medical condition that can not be managed through the use of eye protective devices, an exemption to these laws is available from the State of Georgia Department of Public Safety.
Computer-Cut Window Tinting
The expert technicians at both Precision Audio locations use a computer-controlled plotter to cut all of our tint products. This method eliminates the chances of scratches on glass or damage to window trim and gaskets from a razor knife. Using computer software also reduces film waste that would otherwise translate to additional costs for our clients.
Clean Room Environment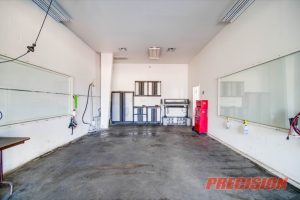 We've invested in dedicated window tint installation rooms to ensure that environmental pollution, pollen or dust won't get trapped under the film. When combined with our computer cut films, thorough glass cleaning process and expertly trained technicians, your tint installation will look amazing! Our goal is to execute each task we perform to the highest of standards to ensure that our clients are provided with the best craftsmanship available.
Window Tinting by the Professionals at Precision Audio
If you're shopping for window tinting services in southern Georgia or northern Florida, contact the Precision Audio location nearest to you. Call our Bainbridge store at (229) 246-2111 or our Thomasville location at (229) 233-5001 to receive your no-obligation quote for premium tint installation. You can, of course, drop by either location and talk to our experts about the tint solution that will best suit your application and expectations.