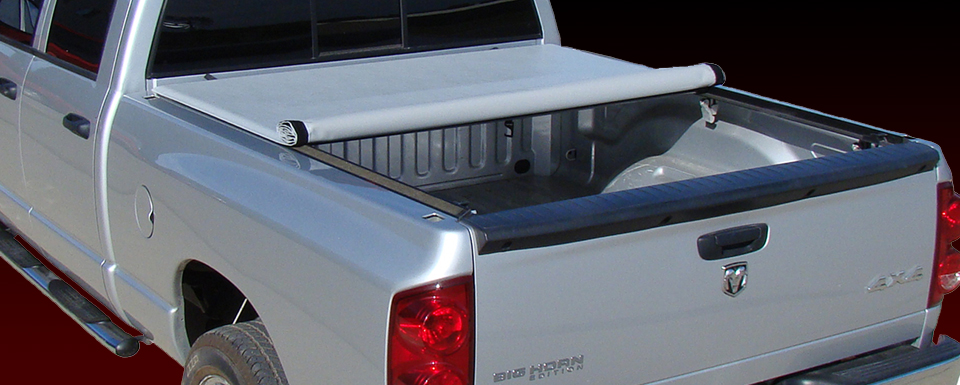 Bed covers are one of the most practical and useful items for any pickup truck. The truck accessory experts at Precision Audio in Bainbridge and Thomasville are experts in all the different brands and styles of bed covers.
Have you ever been hauling something in the bed of your truck, only to get caught in inclement weather? Maybe you've had someone steal something out of your bed while it was parked? A bed cover would solve those problems for you. This article is designed to help you make an educated decision about your bed cover purchase with us. We'll review the styles of tonneau covers available and explain the benefits of each.
Soft Bed Covers
Soft or vinyl bed covers started the market decades ago. What began as a simple black vinyl cover that snapped onto the side of your pickup bed has evolved into covers that include rail systems that require no drilling but make access to the bed quick and easy. The biggest advantage of a soft cover is pricing. If you're looking to give your cargo some protection from the elements and want to keep prying eyes from knowing what you're hauling, this style might be the right solution for you.
Soft Bed Covers: Rollup Bed Covers
The most popular style of soft bed cover is the rollup design. When you want to open the bed cover, you simply open the tailgate, pull a release handle and roll the cover toward the cab. The cover can be stored in that position with the supplied straps.
Soft Bed Covers: Hinged and Folding Covers
In recent years, soft covers have become available in a hinged design that lifts up from the tailgate sides, or in a folding bed cover that is completely removable. These two styles get their design elements from the hard covers discussed below. The Extang FullTilt Snapless cover includes gas-charged shocks to make accessing the bed convenient. TrailFX soft tri-fold covers offer convenient bed access at surprisingly affordable prices.
The downside to a soft cover is security. A razor blade or pocketknife is all that is needed to slice through the vinyl to access your cargo. And while soft covers do a pretty good job of weather protection, they are not in the same league as hard covers.
Hard Bed Covers
Hard or solid bed covers are far and away the most popular style on the market today. In the early years, they were one-piece designs made of fiberglass that hinged up from the back edge of the bed. These large one-piece covers were extremely effective in protecting your cargo, but very heavy and hard to remove and reinstall. More recently, composite materials that are much lighter than fiberglass have made removal and reinstallation much easier.
Hard Bed Covers: One-Piece Covers
The advantage of a one-piece tonneau cover is its protection from the elements and security. The downside of this cover is the limited bed access from the side or front of the bed. If you need to load a tall item, you'll have to remove the cover. Even with lightweight materials, once-piece covers will likely require that you get help from someone to make removal and reinstallation safe. Hard covers like the UnderCover LUX are available pre-painted to match your Ford, Ram, GMC, Chevrolet or Toyota truck.
Hard Bed Covers:  Folding Bed Covers
In simple terms, a folding bed cover is a flat, one-piece cover that is cut into three or four panels with weather-tight hinges between each section. The result is excellent protection that is easily manageable. Some of these covers can even fold up against the rear glass of the cab, giving you full access to the bed. Folding covers offer excellent security for your cargo, as well as good weather protection. The Bak Industries BAKFlip MX4 and G2, as well as the Truck Gear by LINE-X are popular folding hard covers.
Hard Bed Covers: Retractable Tonneau Covers
For many people, the cream of the crop in hard bed covers are retractable units. These covers work like a video projector screen or industrial roll-up door and are typically made of aluminum slats. A small canister is installed inside the bed, up near the cab, and conceals the cover when retracted. When you want to close the cover, you simply pull it toward the tailgate and lock it closed.
Another unique feature of these covers is the ability to lock them in almost any position between fully open and fully closed. Rollup covers are the most convenient to use on a daily basis. They do a great job of protecting your cargo from theft and the elements. The downsides are that the small canister does take up a bit of the cargo space, and these covers are the most expensive to purchase and install. If you want the best bed cover available, this may be the one for you.
RetraxPRO XR covers are popular and easy to use, while offering quick access and excellent security. Roll-N-Lock's E-Series covers feature a remote control and electric motor that allow you to retract or close the cover with the push of a button on a convenient key fob.
Toolbox Tonneau Covers
Companies like Extang offer bed covers that are designed to work with a toolbox installed at the head of your truck bed. These compact covers work with 18- to 20-inch boxes and are available in everything from snap-closure vinyl units to folding soft and hard designs.
Professional Installation Available
We also offer expert installation on all of our bed covers. Our highly skilled installation department will take the utmost care of your truck while it's in our possession, and you can rest assured that the quality of your installation will be top-notch. We never cut corners or take the easy way out, because our reputation depends on the quality of our workmanship and customer service. Here at Precision Audio, we spend significant resources of time and money each year to find our customers the best-value, highest-performance bed covers on the market today. Our attention to detail and focus on exceeding our customers' expectations have kept us in business since 1987.
We invite you to stop by one of our facilities with your truck and let us show you our vast selection of bed covers and other useful accessories for your truck. You can also contact us here for more information about any of our products and services.