When it comes to amazing sound, Rockford Fosgate is the choice of fanatics.
Rockford Fosgate Amplifiers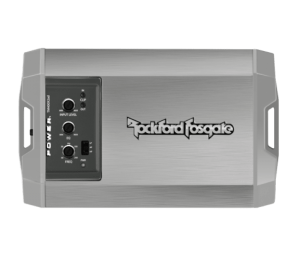 Built for music-lovers on a budget, Prime Series amplifiers are available in monoblock, stereo and four- and five-channel configurations. The Punch Series amps feature more robust power supplies for enthusiasts who want amazing impact and realism from their audio system. Power Series amplifiers are the flagship offerings from Rockford. With monoblock amplifiers capable of delivering more than 2,500 watts of power to your subwoofers, these amps offer serious performance.
Rockford Fosgate Subwoofers
Rockford subs are designed to blow your mind. From the shallow mounting requirements of the Prime, Power and Prime S Series subwoofers to the availability of 8-, 10-, 12- and 15-inch sizes in the Punch Series, there's a Rockford sub for every vehicle. If loud isn't loud enough, step up to the Power Series. The jaw-dropping T2 and T3 subs are available in monster 16- and 19-inch sizes to rattle your fillings lose.
Rockford Fosgate Speakers
Your car audio system can't sound amazing without great speakers. Prime, Punch and Power Series speakers follow the same good, better and best features and performance steps as the amplifiers and subwoofers. RF speakers are available in OEM replacement round and oval sizes with coaxial designs up to high-performance component sets for music aficionados.
Rockford Fosgate Marine Amplifiers
Your boat or powersports vehicle deserves the same love as your car or truck. Rockford's marine amps are available in the same Prime, Punch and Power performance levels to meet everyone's budget. These amplifiers aren't just painted white. They feature corrosion-resistant epoxy coatings on the circuit boards to deal with humidity and stainless hardware to prevent corrosion.
Rockford Fosgate Marine Speakers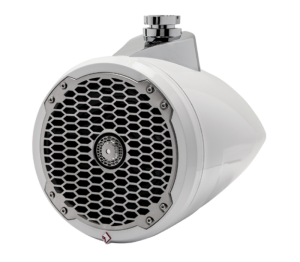 Marine and powersports speakers have a hard life. Regular car audio speakers aren't designed to handle getting wet, exposure to salt and the harmful effects of UV rays. Rockford's Element Ready design ensures that their Prime and Punch speakers will last. Great sound can look cool, too. The new M1 and M2 marine speakers feature Color Optix LED lighting that can be adjusted using and Android or iPhone applications. Rockford also has a full line of enclosure wakeboard tower speakers.
Rockford Fosgate Marine Subwoofers
Adding a subwoofer to your boat is the best way to improve the sound of your marine audio system. Marine subs are available in 8-, 10- and 12-inch sizes with Prime, Punch, M1 and M2 performance options. Of course, the M Series subs include the same awesome RGB LED lighting as the speakers to help set the mood.
Rockford Fosgate Marine Radios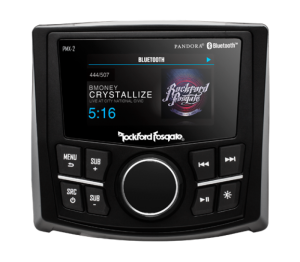 All the audio gear in the world is nothing without a good source unit. Rockford marine radios look great and sound amazing. With IPX6 water-resistant ratings, bright full-color sunlight-visible displays and a host of remote and chart plotter connectivity options, premium entertainment is right at your fingertips. Bluetooth audio streaming, support of MP3 and WMA files from a USB stick, SiriusXM satellite radio and great AM/FM reception are just some of the source options for your boat.
Rockford Fosgate Harley Davidson Motorcycle Audio
When it comes to upgrading the sound system on your Harley-Davidson touring bike, nobody does it better than Rockford Fosgate. Their staged performance upgrades make getting the sound you want easy. With the Rockford name on the products, you know it will sound great. From radios, speakers, amplifiers and saddlebag upgrade kits, there's no limit to how awesome your bike can sound.
Rockford Fosgate Powersports Audio Systems
In the same way that RF's motorcycle audio upgrades deliver tiered upgrades for your bike, owners of Yamaha, Polaris and Can-AM UTVs and side-by-sides can design the sound they want, too. From a radio and pair of speakers to an all-out concert system with multiple amplifiers and subwoofers, there's no limit to what you can create.
If you are searching for amazing sound, drop by Precision Audio in Bainbridge or Thomasville and ask our team about Rockford Fosgate audio upgrades for your vehicle. If you can't make it to one of our stores, send us an e-mail or give our experts a call.