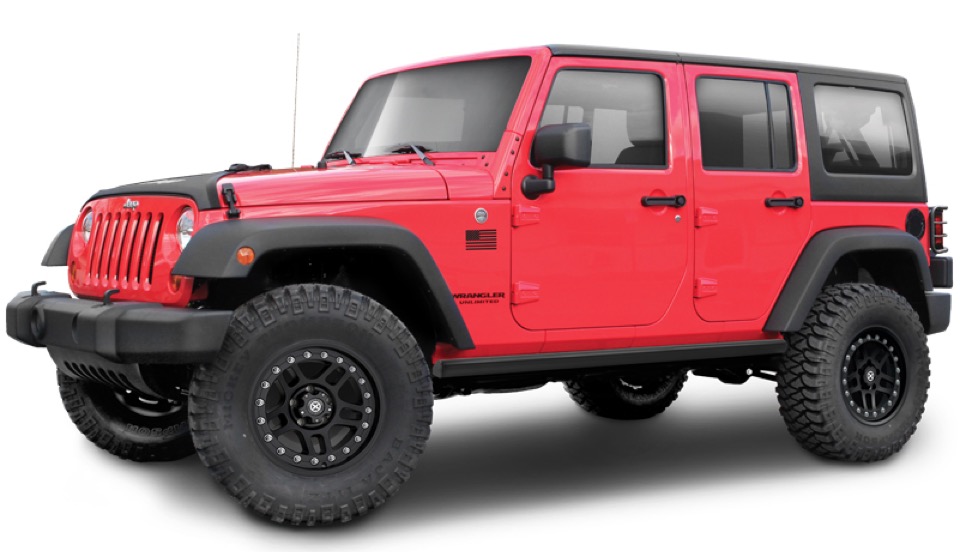 Jeeps are some of the most popular vehicles out there right now, and the folks at Precision Audio in Bainbridge and Thomasville can help you customize yours to stand out from the crowd. We admit it – we love Jeeps! They are extremely versatile, fun to drive and even better: The top comes off. What's not to like?
If you own a Jeep, you understand that a big part of the fun is personalizing it. Buying one is just the beginning. Then the fun begins, and we are here to help. For almost 30 years, we have been helping the fine folks of Georgia customize their vehicles, and we are ready and waiting to help you as well. Here are some of our most popular products.
Lift Kits
Lift kits are among of the most popular items for Jeep owners. Nothing looks better than seeing a Jeep riding high with a beautiful set of wheels and tires. We have suspension lifts in multiple sizes and designs. They seem to get broken down into two main categories.
Lift Kits: Road Warrior Kits
The road warrior kits are designed for people who will spend most of their time on-road and want the look of a lifted Jeep. That is the vast majority of folks.
Lift Kits: Extreme Kits
These kits will work fine for occasional off-roading, but if you want to get serious, then an extreme kit is in your future. Now you're getting a lift kit with increased suspension travel and articulation, and the parts themselves are designed to take a serious beating.
We can help you decide which lift kit makes the most sense for you.
Leveling Kits
If you have added a winch or heavy-duty front bumper, you may have noticed the front end is sagging. If you just want to level it back out, we have leveling kits to do just that. And, of course, Precision Audio has a selection of new shocks and steering stabilizers to complete your suspension upgrades.
Wheels And Tires
Wheels and tires are the second piece of the puzzle for you. Once you have decided how far you want to lift your Jeep, now you know what size tires can fit. We are experts in the field of wheels and tires, and can show you all the options that will work on your vehicle. We have everything from mild-mannered all-terrain tires to over the top Super Swampers. And we have dozens and dozens of different wheel styles for your Jeep, so you surely will find a style you like.
Fender Flares
Fender flares often become a necessity when installing larger wheels and tires. We have styles that look similar to your original ones, except they are wider to cover your new tires. And then we have the flat fender flares that will give your Jeep that mean, old-school look.
Bumpers
Bumpers can dramatically change the look of your Jeep, and we have many different styles for you to choose from. We have rugged, off-road bumpers designed for maximum tire clearance, ones designed to hold winches, and bumpers with integrated grill guards. For the rear, we have bumpers with integrated tire carriers designed to hold your big spare, and models to hold your Hi-Lift jack and gas cans.
Side Steps
Side steps become more and more important as your Jeep gets higher off the ground. You have to be able to get in, right? We have motorized steps that disappear when not in use, N-Fab style Steps, Nerf bars and probably any other style you have seen.
Body And Undercarriage Protection
Body and undercarriage protection not only looks rugged, it protects your Jeep from mishaps when you're doing more serious off-roading. We have everything from rock guards to skid plates and body armor.
Winches And Recovery Products
Winches and recovery products come in handy when doing some real off-roading, and we have all you will ever need. We have winches in different capacities in both steel cable and synthetic rope designs, plus all the accessories – snatch blocks, tow straps, shackles, tow hooks and Hi-Lift jacks.
Performance Products
If you install those larger tires, you're going to need more power to get them moving. Some of our most popular products include exhaust systems, air intakes and power programmers. And the good news about these parts is that they also increase fuel mileage, so they can pay for themselves over time.
Lighting
Lighting is another category that every Jeep owner seems to like. We have all the popular styles in LED lighting, including light bars, plus a large selection of halogen lighting in all different shapes and sizes. And if you are going to install new lights, you need a place to mount them. We have all of the different bumper, hood, hinge and windshield mounts available. Whether you want to light up the road or the field in front of you, we have you covered.
Interior Accessories
Interior accessories such as floor liners, seat covers and locking storage compartments are always popular items.
Soft Tops
If you own a hardtop and are in need of a soft top, we have multiple styles available for you. Or maybe you're the kind of person who wants to leave the top off all summer long, and you want a bikini top. No problem – we have those as well.
Remote Starters And Alarm Systems
Remote starters and alarm systems are always popular with Jeep owners. A Jeep gets colder much faster in the winter than a normal vehicle, and a remote starter will warm it up quickly.
Once you have spent all this money on your Jeep, an alarm system is a great investment to protect it. We have two-way systems that will confirm back once your vehicle has started and will let you know if someone sets off your alarm. Smartphone-based systems allow an almost-unlimited range and eliminate the need to carry around a remote control.
Car Stereo
Car stereo upgrades are an area where Precision Audio really shines. Have you noticed that, when you drive on the highway with the top off, you can't hear your stereo? We can fix that. Do you think your current audio system sounds lifeless? We can help. Would you like your smartphone to be integrated with your stereo? No problem. We can handle all of these requests with ease.
We invite you to stop by our facility with your Jeep. We would like to spend some time with you and get to know your goals for your vehicle. Our dedicated staff will work with you to create the Jeep you have always wanted to own, and our highly skilled and expertly trained technicians will work on your vehicle at standards that will guarantee you years of uninterrupted fun.
Feel free to contact us here for more information about any of our products and services.