The teams at Precision Audio in Thomasville and Bainbridge are your go-to for powersports and marine audio upgrades. We carry prestigious brands like JL Audio and Rockford Fosgate that offer speakers, amplifiers, subwoofers and source units designed specifically to deliver great sound on your boat or powersports vehicle.
Powersports and Marine Radios Start the Fun
Rockford Fosgate and JL Audio marine source units are designed with special displays that dramatically outperform conventional car radios in bright sunshine. The front panels of the radios are water-resistant and easy to use. Bluetooth audio streaming, SiriusXM satellite radio, digital media file playback from a USB memory stick, and of course, an AM/FM receiver are just some of the features these source units offer. For owners of larger boats, we can add wired or wireless remote controls to your radio so you can adjust the radio from the swim platform, the helm or at the nav station. We can even integrate a new radio into a Simrad, Lowrance, B&G, Garmin or Raymarine multifunction display.
Marine Speakers and Tower Systems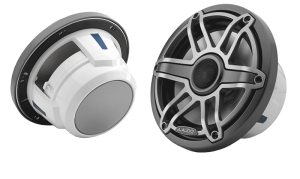 One of the most important parts of any entertainment system is the speakers. You could have the best radio in the world and the finest amplifiers, but without great speakers, it's all a waste. Our marine speaker solutions from JL Audio and Rockford Fosgate are designed using materials that can handle everything Mother Nature can throw their way. Whether you need to replace an older 6.5-inch speaker on your boat or upgrade to a 7.7- or 8.8-inch coaxial for more output and better bass response, we have a solution. Many of our speakers are now available with integrated RGB LED lighting, so you can choose from almost any color under the rainbow to suit your mood.

Marine Subwoofers Improve Your Music
Making great bass in an outdoor environment is tricky. A pair of small speakers isn't going to move enough air to make you really feel your music. Upgrading a marine audio stereo with a JL Audio or Rockford subwoofer system adds amazing bass response to your audio system. Drums, guitars and synthesizers will have more impact and dramatically improved clarity. Better yet, your small speakers will be clearer and can play louder because they don't have to work as hard. Let us show you just how great your boat can sound with a subwoofer upgrade.
Marine Amplifiers Bring Your Music to Life
To play music at high volume levels, you need great speakers and powerful amplifiers. The JL Audio and Rockford Fosgate marine amplifiers we offer will make your music sound amazing. Built with corrosion-resistant heat sinks, coated circuit boards and stainless-steel terminals, the amps can handle humid and salty environments. We have everything from high-power monoblock marine amplifiers for subwoofers to multi-channel system amplifiers to make your boat sound like a concert on the water.
Powersports Audio System Upgrades
Do you own a side-by-side, UTV or ATV and wish it had a great stereo? The teams at Precision Audio have a solution just for you. If you are rocking a Polaris, Can-Am or Yamaha, Rockford Fosgate has developed vehicle-specific audio upgrade packages from mild to incredibly wild. Form-fitting speaker enclosures, under-dash amplifier solutions and custom dash kits ensure that your audio system will look great and sound fantastic as you blast down the trails. We can upgrade almost any vehicle with a compact, water-resistant amplifier and a set of VeX speaker pods from JL Audio.
South Georgia's Marine and Powersports Entertainment Experts
If you want better sound on your boat or side-by-side, we invite you to visit Precision Audio in Bainbridge or Thomasville and speak with a member of our team. They'd be happy to design an upgrade that will sound great, and our expert technicians will have your new gear installed and dialed-in in no time so you can get back to having fun. If you can't visit a store, please call our nearest location or send us an e-mail.