Precision Audio in Bainbridge and Thomasville is proud to offer JL Audio amplifiers, speakers and subwoofers for automotive, marine and powersports applications. JL's dedication to producing reliable, high-quality audio components makes them a perfect solution for our clients. Few brands are as recognizable as JL Audio.
JL Audio Subwoofers
Whether you need the shallow mounting depth requirements of the TW1, TW3 and TW5 subwoofers for pickup truck enclosures or want the visceral impact of the W1, W3, W6 or amazing W7 subs, we can deliver. Motor structures optimized with dynamic motor analysis and integrated cooling features help you get great value from your investment. If you want to hear a kick drum, synthesizer riff or bass guitar with impressive accuracy and detail, JL makes a sub for you!
JL Audio Amplifiers
From the compact MX amplifiers that are perfect for motorcycle and powersport applications to the power and efficiency of the XD series and stunning flexibility of the VXi, JL Audio amplifiers ensure that your music sounds amazing. Balanced differential inputs help to reduce EMI noise while NexD switching produces your music with clarity and detail while being easy on your vehicle's electrical system.
JL Audio Speakers
Speakers that reproduce your music accurately are important to any car audio system. JL offers five different speaker series. The C1 and C2 series are a great upgrade solution for speakers that have failed or just don't sound good. C3 and C5 handle more power and deliver amazing performance when combined with an amp. For the most amazing listening experience available, C7 speakers give us the flexibility to design a truly amazing bespoke audio upgrade that delivers world-class sound.
JL Audio Stealthbox
When it comes to vehicle-specific subwoofer systems, JL Audio Stealthbox solutions are unsurpassed. Constructed from premium-grade fiberglass and contoured to fit your vehicle perfectly, a Stealthbox subwoofer system is the fastest way to add amazing bass to your vehicle while maintaining cargo space and functionality. Of course, being fanatical about integration, most Stealthboxes are available in a color-matching carpet to blend perfectly with your vehicle interior. Each Stealthbox is designed to work with the physical characteristics of your vehicle to deliver deep, rich sound and impressive impact from your favorite bass instruments.
JL Audio Marine Speakers & Tower Systems
When it comes to great sound on a boat, nobody offers a solution that can hold a candle to JL marine speakers and wakeboard tower enclosures. JL Audio constructs its world-class M6 speakers right at their factory in Miramar, Florida. With amazing sound quality, power handling, weather-resistance and integrated transflective LED lighting, M3 and M6 speakers set the standard.
JL marine audio tower speaker systems are available with M3 or M6 drivers in 6.5, 7.7 and monster 8.8-inch coaxial designs so that everyone can hear the music clearly.
JL Audio Marine Subwoofers
If you're looking for great sound on your boat, you'll want to consider adding a subwoofer or two. JL Audio marine subwoofers have the same UV- and salt-resistant materials as their speakers to create an audio system that will sound great for many years. With impressive power handling and class-leading excursion capabilities, these are the perfect choice to make your marine entertainment system sound its best.
JL Audio Marine Amplifiers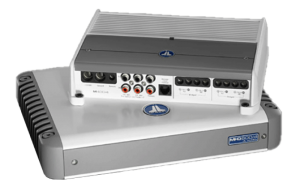 If you want to hear your music over the wind and waves, then you need a high-power amplifier. JL marine amps feature high-efficiency designs that won't over-tax your boat's electrical system. Corrosion-resistant chassis finishes and fasteners combined with protective coatings on the circuit boards will keep these amps sounding awesome for many years.
JL Audio Marine Radios
Whether you want to stream music from a smartphone, play digital media files from a USB stick or tune in to your favorite programming on SiriusXM, there's a JL Audio marine source unit that's perfect for your application. JL even has hideaway source units compatible with Simrad, Lowrance and B&G multifunction displays using the NMEA 2000 network.
JL Audio Powersports and Motorcycle
From the Slam-Pak upgrades for the Can-Am Spyder, the compact VeX speaker enclosures with M3 or M6 speakers and a host of weather-resistant amplifier solutions, upgrading your side-by-side, ATV, motorcycle or even a golf cart is easy and reliable.
Drop by Precision Audio in Bainbridge or Thomasville to find out how we can integrate JL Audio speakers, amplifiers and subwoofers into your vehicle or boat to make your commute or relaxation time more enjoyable.