When it comes to lifting or leveling your truck or SUV, Rough Country Suspension System products from Precision Audio in Bainbridge and Thomasville are a great choice. Whether you need an extra inch of clearance at the front of your truck to clear bigger tires or want to go big with a 6-inch lift to clear rocks and trees, we have a solution. Let's look at why Rough Country is our top choice for suspension upgrades.
Lift Systems Not Lift Parts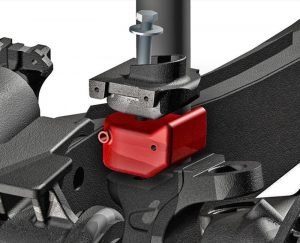 Everything Rough Country offers is engineered to optimize the geometry of your suspension system for safe and reliable performance on the highway or in the dirt and mud. Where possible, these kits include upgraded spring packs for the rear of your vehicle to ensure proper ride quality through optimized spring rates. This philosophy extends to the design of Rough Country's control arms, relocation brackets and much more. Shock absorbers, in particular, feature multi-stage valving, heavy-duty chromed piston rods, high-pressure nitrogen charging and military-spec fluid to ensure reliable performance down to -40 degrees or colder. Each application is fine-tuned for the weight and ride height of the vehicle to ensure excellent tire contact and vehicle control at all times.
Quite simply, a suspension lift solution that looks good but doesn't perform reliably and predictably is a bad idea.
Complete Truck Upgrade Solutions
With an extensive catalog of lift kits, leveling kits, body lifts, shock absorbers, lowering kits, brake lines, traction bars and much more, we can help you find the perfect solution for your vehicle. Complete bolt-on kits are available for Chevy, GMC, Ram, Dodge, Ford, Jeep, Toyota, Nissan, Hummer and Cadillac trucks and SUVs. Rough Country also offers steering stabilizers, winches, exhaust systems and much more to upgrade the style and performance of your vehicle.
Once you've chosen the solution that meets your performance and style needs, our expertly trained suspension mechanics will ensure that the upgrade is installed properly on your vehicle. We take the time to torque every fastener to specification and to route and properly secure all lines and hoses for reliable and safe operation. We offer suspension installation services in both our Thomasville and Bainbridge locations.
Personalize Your Truck at Precision Audio
If you're in the market for a suspension upgrade to accompany a new wheel and tire package or to give you the clearance for the most challenging trails around, drop by Precision Audio and speak with one of our truck experts. These guys know what's available for your vehicle, what works and what looks good. For more information about Rough Country Suspension Systems solutions, call our store nearest to you or send our team an e-mail using our online contact form.