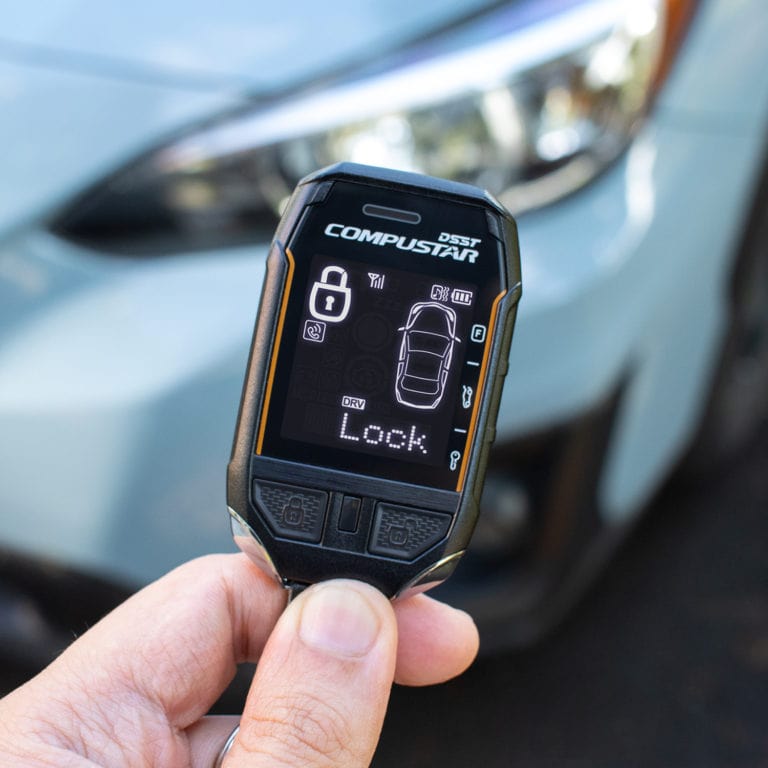 If you live in southwest Georgia or the Florida Panhandle and want to make your vehicle more comfortable, drop by Precision Audio & Tint and ask about our remote car starter solutions. Pressing a button and having your car run for a few minutes will let the air conditioning cool your vehicle so it won't feel like a sauna. We can even upgrade your starter with security features, smartphone control and GPS locating features so you can keep track of your pride and joy.
Compustar Remote Car Starters
We've installed remote starters in cars, trucks and SUVs since the late 1980s. We tried every brand on the market before choosing Compustar. These starter systems have proven themselves time and time again to be the most reliable solutions in the industry. The company stands behind its products with class-leading customer service, so we know our clients are in good hands.
Compustar remote starters are compatible with most vehicles that use push-to-start ignition systems along with conventional key-based solutions. They work with gasoline, diesel and even hybrid drivetrain vehicles. We integrate door lock control into all our installations to ensure that your vehicle is safe and secure once it's started.
Remote Start Upgrades and Options
Our product experts will help you choose the perfect remote control solution to ensure that you can always start your vehicle, whether you're at home, at work or out on the town. Options range from cost-effective single-button, one-way remotes to LED and LCD two-way remotes that let you know when the doors are locked or the vehicle has started.
We also offer the DroneMobile smartphone control system. DroneMobile is an app that you install on your iPhone or Android device that uses cellular data communication to talk to an interface in your vehicle. You can lock the doors or start the vehicle from anywhere you have internet access. The premium DroneMobile service adds GPS locating and alert features, so you can keep track of your vehicle if a family member or co-worker uses it.
As mentioned, we can upgrade your Compustar starter with security features that include a high-output siren and a digital security sensor that monitors the vehicle for motion, impact, glass breakage and being jacked. If you're concerned about someone stealing your wheels or cutting off a catalytic converter, this is a perfect way to keep your vehicle safe.
If your vehicle has heated seats, a heated steering wheel or a rear window defroster, we can integrate those into the starter so they turn on automatically when you start the vehicle on a cold January morning.
Expert Installation by Precision Audio & Tint
While purchasing the most reliable remote start hardware is crucial to performance, how that equipment is integrated into your vehicle is key in terms of overall reliability. Our technicians have installed thousands of starters and take pride in their work. We ensure that every component is mounted safely and securely. We route wiring and cables away from sources of heat, electrical interference and moving parts so that everything functions as it should for the vehicle's life. We stand behind our work with a lifetime guarantee on our labor, and Compustar offers a lifetime warranty on the main control module. Remotes and accessories have a one-, two- or three-year warranty, depending on the model you choose. 
Add Comfort and Convenience with a Remote Car Starter
Imagine not having to get into a hot vehicle ever again. If this sounds good to you, drop by Precision Audio & Tint in Thomasville or Bainbridge and ask one of our product specialists about a Compustar remote car starter.