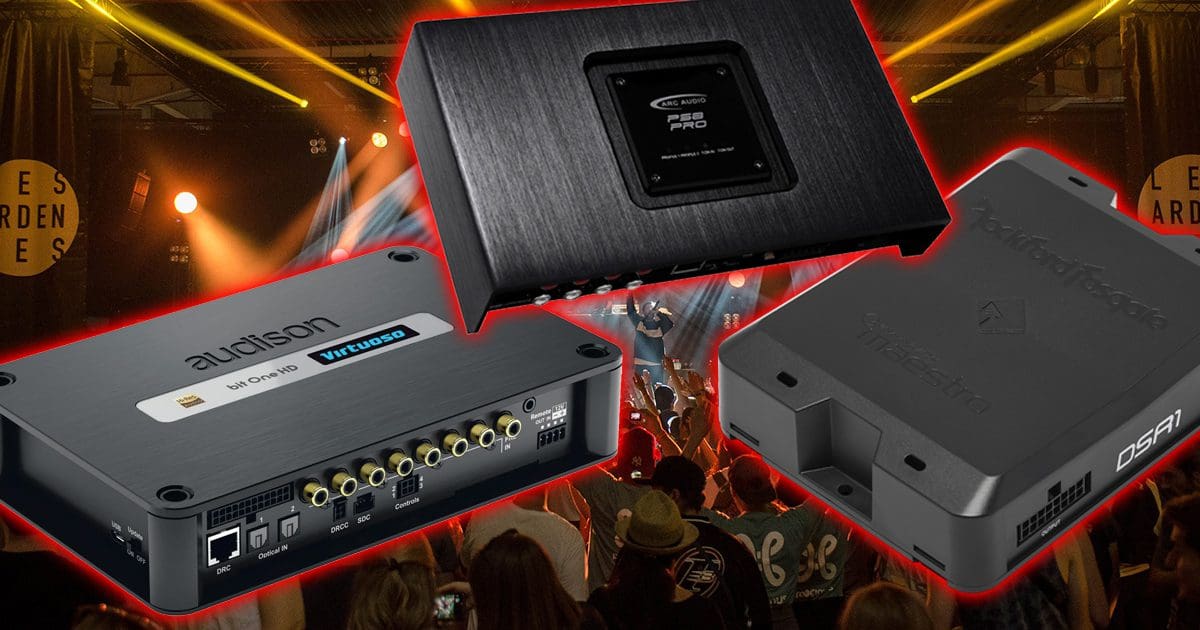 It should go without saying that a car stereo system designed around multiple amplifier channels and a DSP is the easiest way to get great sound in your vehicle. The technician working on your vehicle has complete control over the output level, sound arrival time and the frequency response of each speaker in the system. The result should be a sound system that is as optimized as possible – assuming the calibration process is executed properly. There are still many misunderstandings about what a DSP can and can't do. This article will provide a few things to listen for to help you determine whether your DSP has been adjusted properly.
What Is a DSP?
What is a digital signal processor? Though we have covered the topic extensively, we'll offer a quick "too long; didn't read" for those new to our magazine. A DSP is a computer chip optimized to perform many calculations quickly and repeatedly on a sequence of digital samples. These samples are typically a digital representation of an analog signal. In the case of our car audio systems, the analog signals are the left and right channels of the audio recording. DSPs are common in other applications, including video processing and radio frequency transmission analysis. Modern recording studios and live venues use DSP-based mixing consoles.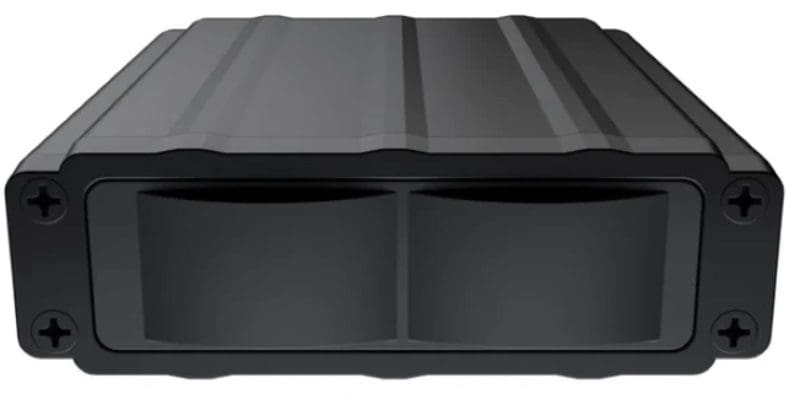 How Is a DSP Used in Car Audio Systems?
In car audio applications, a DSP serves many purposes. A DSP can combine signals from multiple sources, adjust levels, apply equalization and frequency filtering, and add delay to a signal. In short, it helps the technician connect to a factory-installed stereo, optimize the signal to each speaker and compensate for your vehicle's acoustics.
If your car stereo uses an aftermarket head unit, your installer will likely connect a DSP directly to the radio's preamp outputs using RCA cables. Suppose you have a vehicle that uses a digital interface between a factory-installed head unit and an amplifier like A2B, MOST, AVB or a SP/DIF connection. In that case, you may have an interface that feeds a digital signal to your DSP over a fiber-optic cable. Finally, many audio system upgrades require recombining signals from multiple factory-installed amplifier channels and removing any processing to create a full-bandwidth signal. A high-quality DSP can help with this.
After the audio signal is in the DSP, the first order of business is to route that signal to the appropriate output channels. You don't want the left-channel signal from the radio going to the right-side tweeter. Also, you'll likely want the signals from both the left and right channels going to the subwoofer signal. All reputable DSPs have a signal-routing mixer to perform these tasks.
Next, the technician configuring the system must filter the signals to each speaker. You don't want bass information going to a tweeter or midrange information to a subwoofer. A properly trained technician knows which high- and low-pass crossovers to apply to the speakers in your vehicle based on their design, directivity characteristics and the speakers that are operating in adjacent frequency ranges.
The last step is for the technician to use a calibrated microphone system and measure each speaker's acoustic output at the listening position. Using that information, they can adjust the equalizer to smooth out any peaks or dips caused by reflections in the vehicle. Finally, the output level of each speaker is adjusted to ensure that the transition from one driver to another is smooth.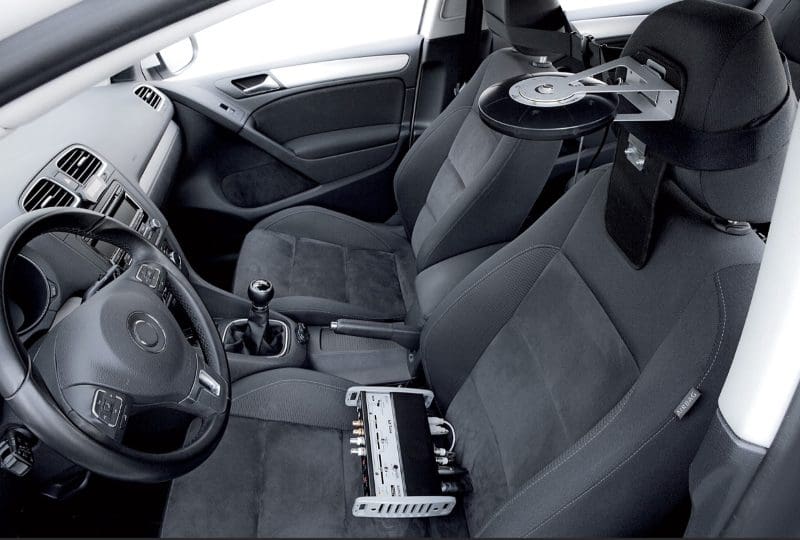 Auditioning Overall Tonal Balance
While a DSP often seems like some mystical black box of audio voodoo, they are quite simple devices. Yet they do have an extensive list of functions and require training and a thorough understanding of the laws of physics to implement properly. A DSP is effectively mandatory if your goal is realism and accuracy from a car audio upgrade. That brings us to the question, how would a consumer know whether the DSP in their car or truck is adjusted properly?
The first thing to listen for is a smooth frequency response. There shouldn't be emphasis or deficiencies in any frequency range. For example, if the letters S and T seem overly prominent, the equalizer bands around 3 and 5 kHz might need adjustment. If voices are boomy or chesty, there might be too much output around 200 Hz. The bottom line is that if every genre of music doesn't sound right, then the DSP needs more adjustment.
An idea offered by long-time car audio competitor Harry Kimura is to listen to a well-engineered piano recording. The lowest note on a piano has a fundamental frequency of 27.5 hertz. That's well below what an audio system without a subwoofer can reproduce with any authority. The highest note has a fundamental frequency of 4.186 kHz. It's crucial to remember that each note includes several octaves' worth of harmonics to give the instrument its "sound." There's still important audio information beyond 12 kHz from this 4.186 kHz note. If someone plays a scale from the highest to the lowest notes, each should be reproduced by your car audio system with the same volume or intensity. If something is too loud or quiet, the DSP's equalizer needs adjustment.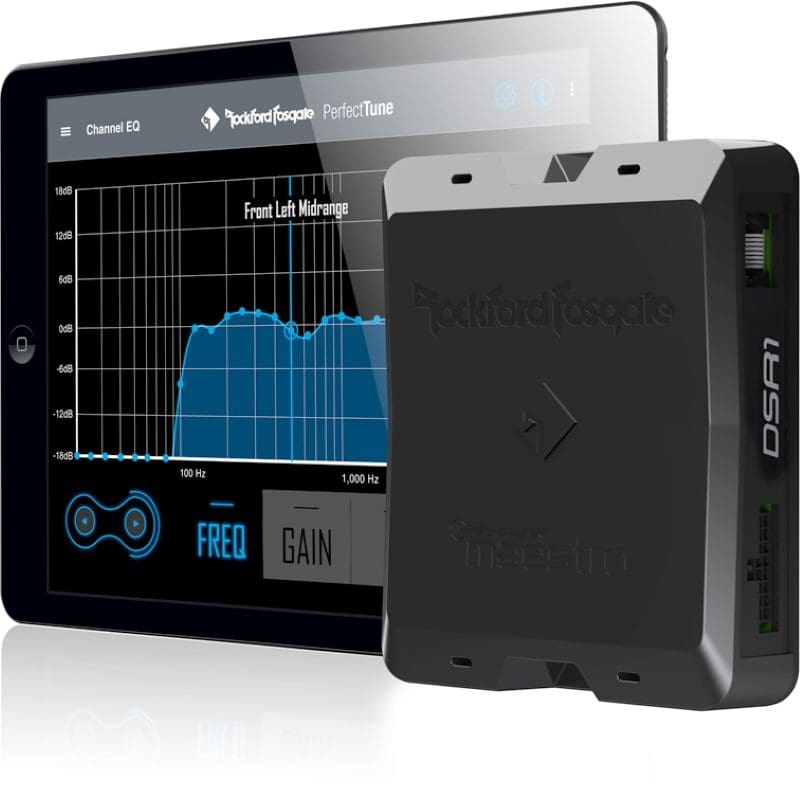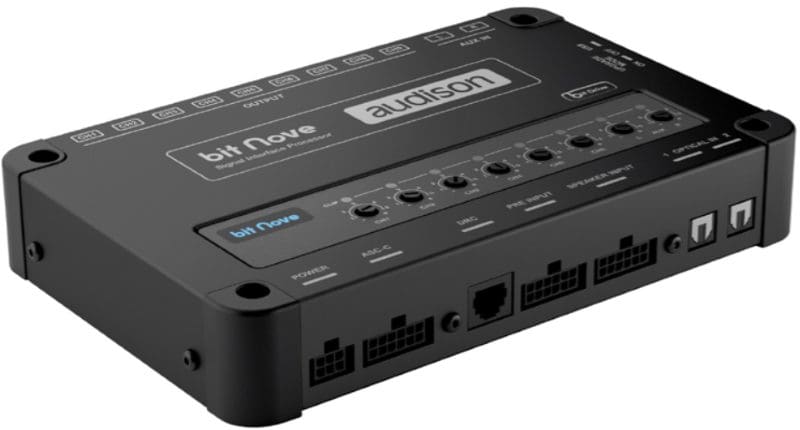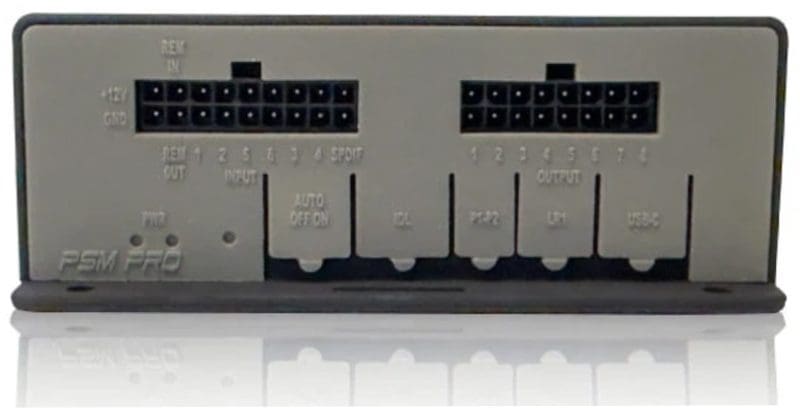 What about the Bass?
We can confidently tell you that a car audio system that plays the bottom two octaves of a piano at the same level as middle C won't be much fun on the road. It might be super-accurate, but the bass will be drowned out when competing with wind, road and exhaust noise. The subwoofer in your car audio system should be 8 to 12 dB louder than the midrange for the system to be enjoyable while in motion. If you're a basshead, fill your boots!
The Source of Sound
The second criterion to listen for is staging and imaging. Imaging refers to the ability of an audio system to render the sound of specific instruments accurately on a virtual soundstage. Think of yourself listening to a live acoustic music performance. A four-piece jazz band with a drummer, pianist, upright bass player and lead singer would be a perfect example. No matter where you sit in the audience, the sound source from their instruments is easy to detect. You'd know if the lead singer walked across the stage while performing, even if you didn't see them.
In your car audio system, you should be able to pick out the specific instruments in a well-recorded track. If the singer and drummer were in the center of the stage, they should sound like they are in the center of the dash or windshield. If the bassist is on the left, then the sound should come from in front of the steering wheel. If the piano was on the right side of the stage, it should sound like it's coming from the airbag on the right side of the dash.
Here's a good example of what you should hear if the system has a solid soundstage and good imaging. "Listen to Money for Nothing" by Dire Straits. At 1:12 into the track, Pick Withers' drums pan from the far right to the center. Each drum appears to have a dedicated microphone, and their signals are panned to fill the soundstage. As he hits different drums, the sound source should move. The system isn't configured correctly if the drums are a big blurry mess.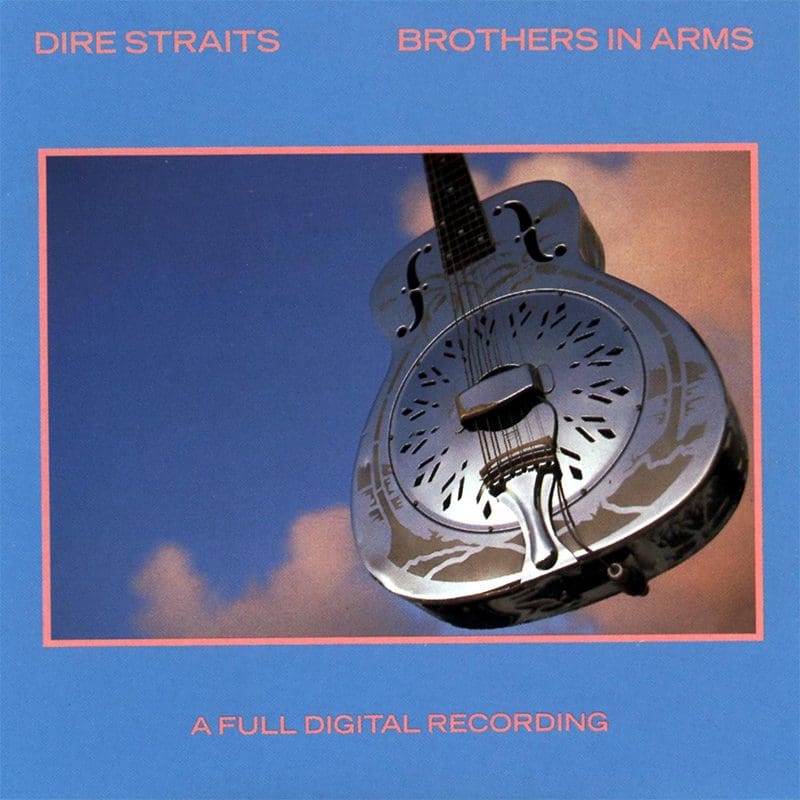 How Do You Want Your System to Sound?
The above description assumes you wanted your car audio system calibrated as though you were in the audience. The other option is to have the system configured as though you were on stage with the performance. In this scenario, the sound in your car would be more like what you'd hear when wearing headphones. The vocals and drums might be in the middle of your head. The bassist would be to your left, and the piano to the right. Some call this a "club" sound, where music comes from around you. The product specialist you're working with to design your mobile audio system should ask you about your listening preferences during the client qualification process.
A car audio system with high-quality amplifiers and an excellent DSP will offer better focus for each instrument. We call this better imaging. We've heard many factory-installed audio systems where the center-stage vocals came from a space the size of a large pizza. The best aftermarket systems we've listened to reproduced that same track from a point in space the size of a tennis ball. It's not just equipment that achieves this goal. The technician adjusting the DSP needs to know what to look for and what to ignore in the acoustic measurements to get this right.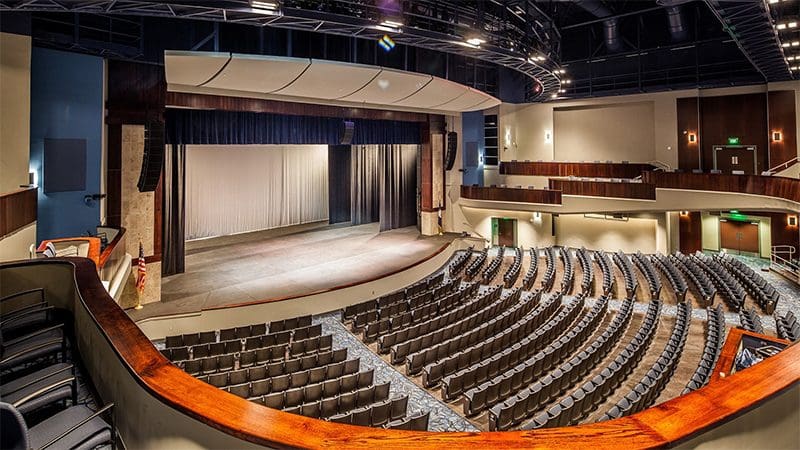 What Can't a DSP Fix?
There are some product and installation issues that a DSP can't resolve. If you've chosen speakers with resonance and distortion issues, the DSP can't remove that harmonic information added to your music. If you find the high-frequency response harsh or fatiguing, you are probably hearing harmonic distortion from your speakers. The only solution is to switch to better-designed speakers that include distortion-reducing designs and technologies.
The same goes for sloppy midbass. If a rim hit on a tom drum sounds like a thud or bump rather than a sharp crack, you may have a speaker or amplifier distortion problem. Audio components (primarily amplifiers and speakers) with high levels of intermodulation distortion typically cause muddiness or unwanted warmth in the lower midrange frequency range. No amount of DSP adjustment can fix this.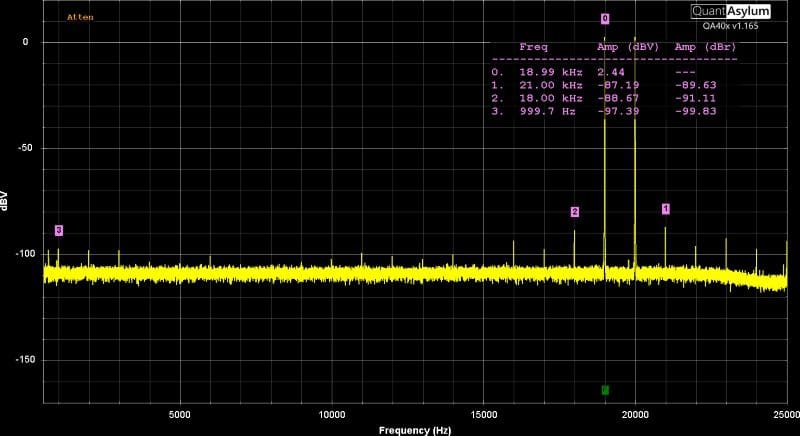 Learning About High-Quality Audio Systems and Accurate DSP Adjustment
This article kicks off a series on how to listen to audio systems and components from a technical perspective. We've noticed that many consumers think certain products "sound really good" when they are, at best, mediocre. We hope that educating everyone about what to listen for when auditioning speakers and listening to demo vehicles will help people purchase solutions that offer the best performance possible for their investment. As you learn what high-quality car audio upgrades sound like, use that information when working with a local specialty mobile enhancement retailer to pick the best upgrades possible.
This article is written and produced by the team at www.BestCarAudio.com. Reproduction or use of any kind is prohibited without the express written permission of 1sixty8 media.