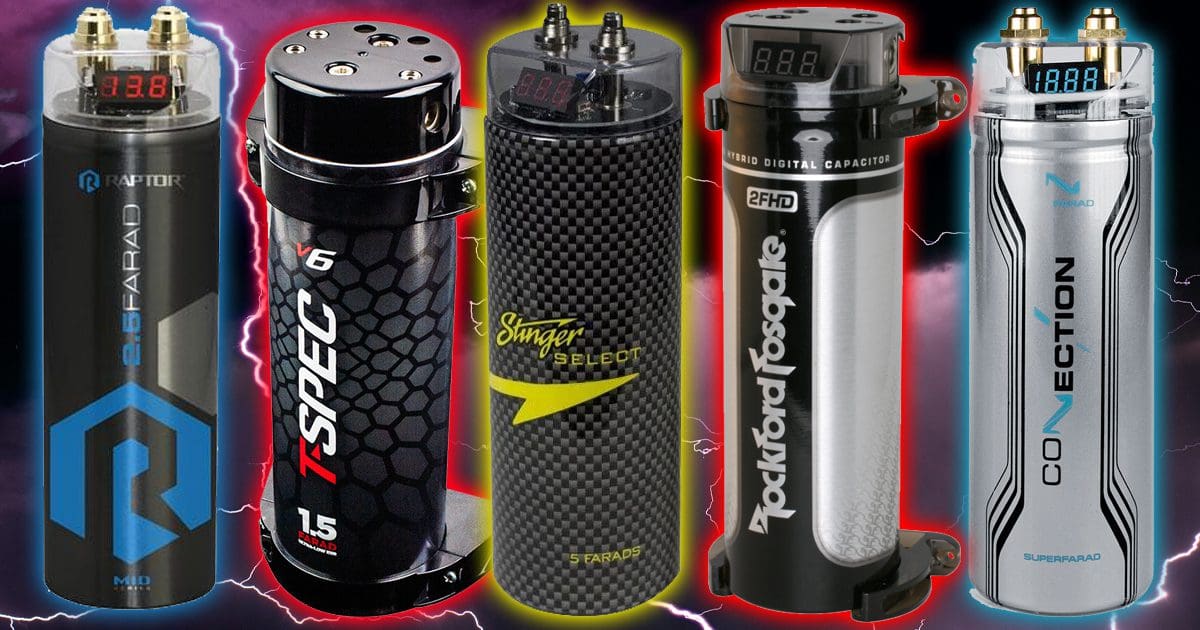 Since the 1980s, car audio enthusiasts have been using large-value capacitors to improve the performance of their car audio systems. Aside from people believing that distortion damages speakers, few topics are as misunderstood as the benefit of adding a high-quality capacitor to your car stereo. So, let's take a look at what a capacitor is, how it works and how it can be of benefit to a high-power car audio system.
What Is a Capacitor?
A capacitor is similar to a battery in that it stores energy between plates. Unlike a battery, the charge is stored directly as a difference in voltage (called an electrostatic field) and doesn't require a chemical reaction to release energy. As such, capacitors can release large amounts of energy very quickly, whereas a battery releases energy at a slower rate. Another way to look at the difference between the two is that a battery is intended to be a source of energy, whereas a capacitor is used to store energy for a short period of time. Access to large amounts of energy storage is crucial to the performance of your car's audio system.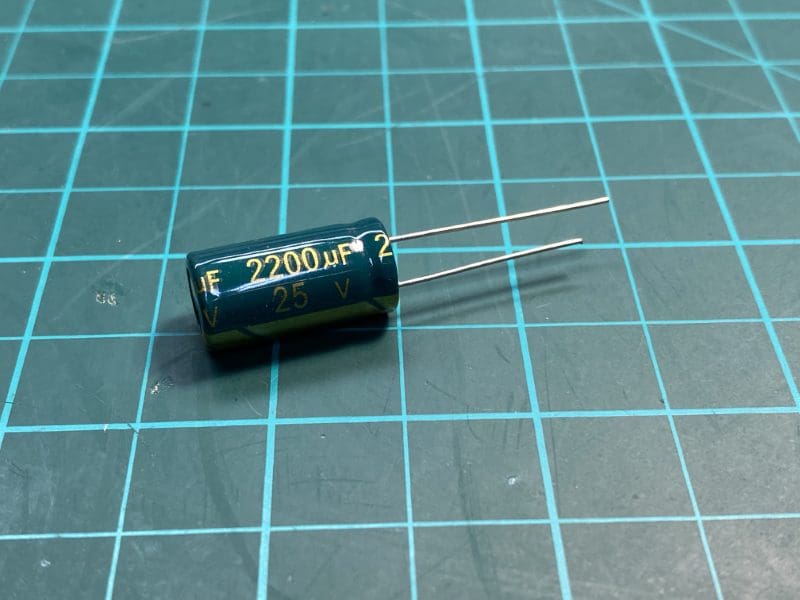 In a capacitor, two or more plates are separated by a dielectric known as an insulator. This insulator prevents the metal plates from touching each other and draining the stored energy. When a voltage is applied to a capacitor, current will flow into the device until the potential of the electric plates matches the source voltage. If you connect a capacitor to a car battery, it will charge (very quickly) to the same voltage as the battery. If you disconnect the cap from the power source and connect it to a load, it will drain equally quickly.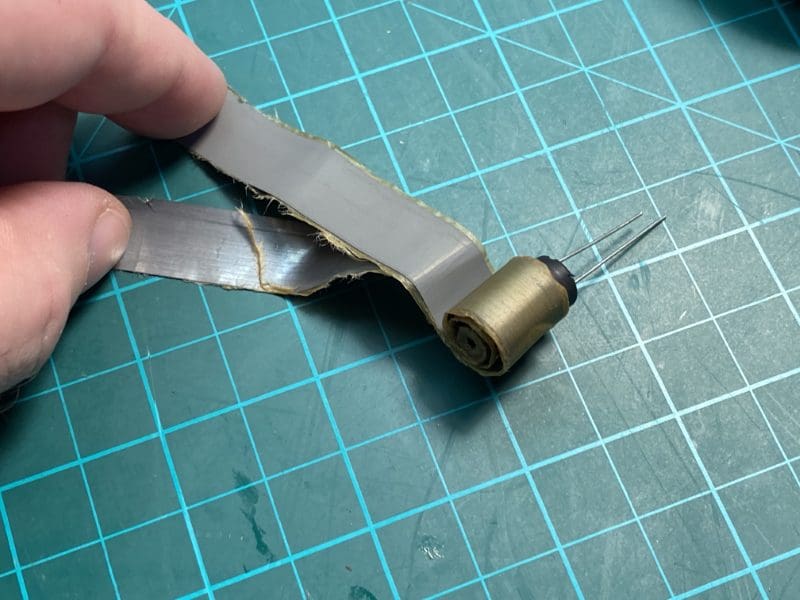 The Capacitor Analogy
If you are into high-performance vehicles, then you may have heard of a small fuel storage canister called a swirl pot or surge tank. These tall, skinny tanks are added after the feed from the main fuel tank to act as a reserve for those instances when a vehicle is accelerating, braking or cornering such that the fuel in the main tank may slosh away from the pickup. Rather than starving and potentially damaging the engine, the fuel injectors or carburetor are fed from the fuel stored in this small reserve tank. The engine doesn't know or care where the fuel is coming from so long as it has what it needs to keep running.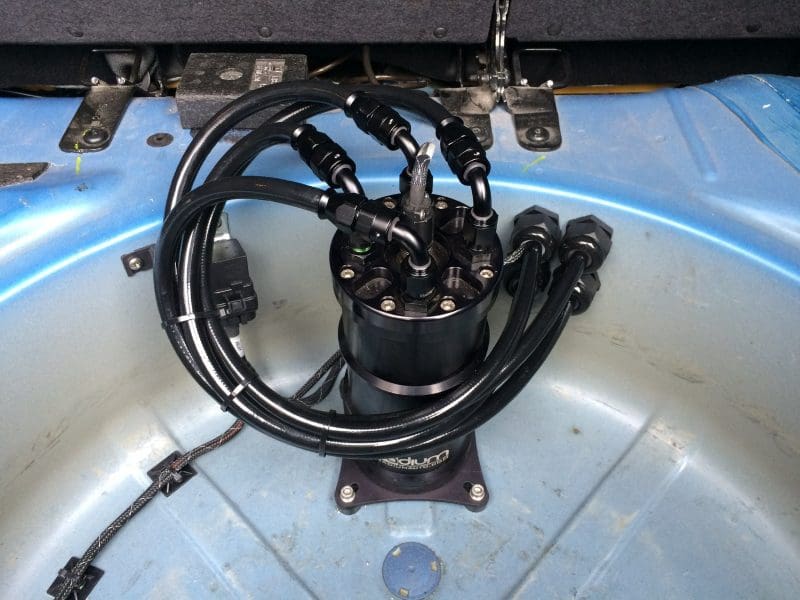 A capacitor in an electrical system works the same way. If a capacitor is installed across a load like an LED, it will provide current to the load when the supply voltage is removed until its stored energy has been depleted.
In most direct current electrical applications, capacitors are used as filtering devices to reduce the voltage peaks and dips in an electrical circuit. If you know how a DC power supply works, capacitors are a crucial component in converting energy pulses in a relatively smooth waveform.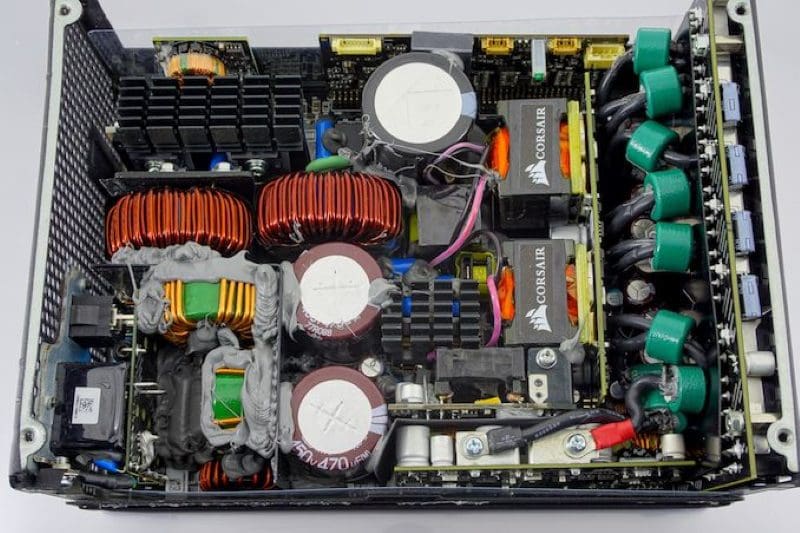 Capacitors in Car Audio Applications
If you've ever looked inside a car audio amplifier, you'll see two banks of capacitors. There is a small group of capacitors on the power input to the amplifier and a second set on the output of the switching power supply, also referred to as being on the "rails." These capacitors are there for two reasons. They smooth the voltage ripples that are caused by the power supply switching devices turning on and off quickly. Secondly, they store energy. Power supplies, especially the switching style used in audio amplifiers, take a moment to react to sudden demands for current. During that time, without having capacitors present in the circuit, the rail voltage level would drop. The presence of the capacitors helps supply energy to the output stage for these sudden and dynamic bursts of energy.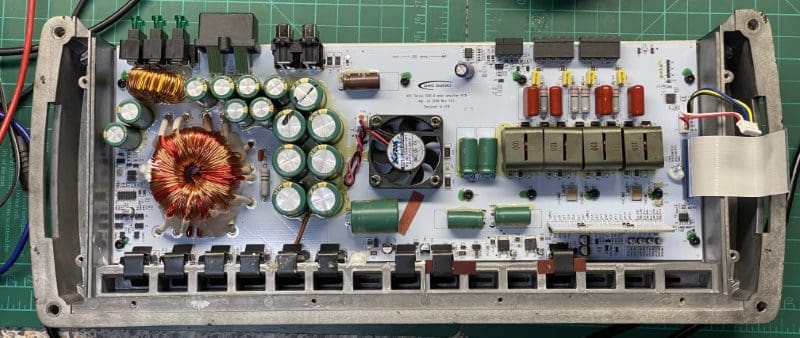 If we look at how most amplifiers work at lower load impedances, it is the maximum current delivery capacity of the power supply that limits power. At 4 ohms, when pushed to their limit, amplifier output power is usually limited by the rail voltage. When we need twice as much current to drive a 2-ohm load, the power supply typically can't deliver and the rail voltage drops. This is why many modern amplifiers don't double their maximum power when the load impedance is halved. Capacitors don't help in constant current draw conditions.
Benefits of Stiffening Capacitors
Think about everything we've stated. If you're building a car audio system designed to play music at high volume levels, the current drawn by the amplifiers will vary dramatically. Capacitors are a perfect way to help fill in voltage drops that might occur when a battery or alternator can't deliver enough current or when wiring and connections waste energy. For dynamic loads, capacitors can provide an audible improvement to your audio system.
The benefit of adding a capacitor is going to depend on the amount of power your electrical system can supply, how loudly you listen to the audio system and the efficiency of your amplifiers. If you listen at moderate volume levels, the system might only draw 20 or 30 amps of current. The stock electrical system in most vehicles can keep up without much fuss. If you listen really loud, you might draw 50 to 100 amps of current during the most dynamic parts of a song. In these applications, a capacitor will help maintain the voltage available to your amplifiers. The difference in performance between having a capacitor in a system or not is typically most audible in loosely or unregulated amplifiers powering midrange and high-frequency drivers. We can hear the clipping distortion from these amplifiers much easier than from a subwoofer system.
If your car audio system is designed to play test tones, as you'd find at SPL (Sound Pressure Level) competitions, capacitors are of little value. They might reduce some regulation issues from a high-current alternator and help with the initial demand for energy when you burp the system. After 100 milliseconds or so, they do nothing of significance to make an audio system louder over long periods of time.
If you're looking for the best possible performance from a high-power car audio system, drop by a local mobile enhancement retailer and ask them about adding a high-quality stiffening cap to your sound system.
This article is written and produced by the team at www.BestCarAudio.com. Reproduction or use of any kind is prohibited without the express written permission of 1sixty8 media.